Are there any virgins in the room?
Let's face it, not everyone drinks and you don't have to be a drinker to have a good time.  For that reason, we wanted to include a section for virgin cocktails.  We also noticed that this is a very popular post! So if you have virgin cocktail recipes you would like to share, send them in to info@hotbachelorette.com with a picture of the drink and a picture of you if you want to be in the article and if we use your recipe, we'll credit you!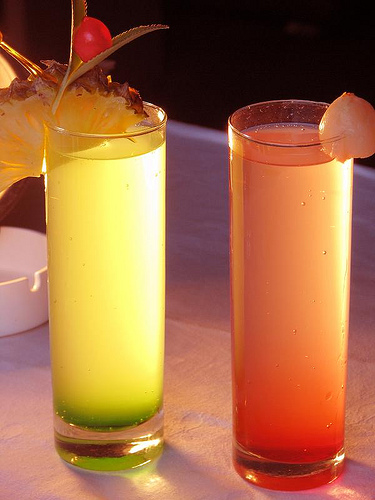 We always feel that the fresher the ingredients, the better the cocktails.  Start by picking up some fresh items and tools for your delicious, virgin cocktails.  Berries for garnishes, lemons, limes, a "muddler" (wooden mallet for smashing fruit), a large pint glass or a bartender's shaker and some crushed ice or a blender.  Here is a site where you can find just
drinking supplies for every occasion  – DrinkingStuff.com
Watermelon makes for a great "base" for fruity, virgin cocktails.  Watermelon has a lot of liquid but it is not overbaringly sweet.  Pineapple is a fantastic ingredient for a virgin cocktail because it is exotic and tasty yet not too difficult to find.  We also really like to use guava juice or pear concentrate in a lot of our drinks in order to neutralize the acidity in the citrus.
Watermelon Mash    
Makes 1 drink
3 – 4, 2 inch cubes of watermelon
2 oz. of guava juice
2 oz. of soda water
1 oz. of lime juice
1 teaspoon of powdered sugar
In a large pint glass, muddle watermelon with sugar
Add guava, lime juice and soda water
Shake and serve over ice
Garnish with mint leaf or lime wedge for color

Pineapple Cooler
Makes 1 drink
3 oz. of canned pineapple juice
1 oz. of orange juice
1 oz. of lemon juice
1 oz. of lime juice
A splash of pear concentrate to neutralize the acidity of the citrus
Taste to make sure you have enough pear vs. citrus
Add to blender and blend with ice and serve in a tall glass
Garnish with a pineapple wedge

Very Berry Mocktini
Makes 1 drink
Small handful of blueberries about 1/3 cup
3 – 4 strawberries
2 oz. of guava juice
1 teaspoon of powdered sugar
1 oz. of lime juice
Muddle the berries with the sugar in a large shaker or pint glass
Add a splash of grenadine (pommegranite juice) for color and shake   
Serve in a martini glass straight up
Garnish with a strawberry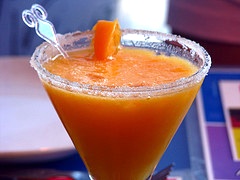 Peach Sorbet Virgin Belini
Makes 1 drink
1 small scoop of peach sorbet
3 oz. of sparkling grape juice
Serve in a 6 oz. martini glass straight up
Garnish with a mint leaf or a marschino cherry