We Found The World's Best Mini Vibrator
Crave DUET could easily be the best mini vibrator in the world but we have not tried them all… yet.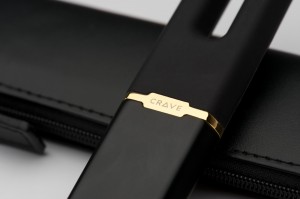 Crave DUET Discreet and Powerful Mini Vibrator
We found this amazing mini vibrator while randomly searching the internet. The creators of Crave DUET had nothing to do with the sex toy industry, in fact, they have traditional design backgrounds (product design and industrial design), which really piqued our curiosity. We figured if anyone would know about creating the perfect mini vibrator, it would be them!  
What makes Crave DUET the World's BEST Mini Vibrator? 
Precision. Duet is shaped like a V so you experience a dual vibration sensation. 
Differing intensity. The tip, inside and outside edges of the pocket rocket will vibrate at different degrees of strength – but only slightly.   
Small but sophisticated. Dual motors provide four different vibration patterns – you determine which combination suits your needs. 
Rechargeable. USB charging, the only vibrator we found that discreetly plugs into your computer for charging. Takes 1.5 to 2.0 hours to fully charge. 
Super quiet. Crave is nearly silent. The split tip of the mini vibrator makes the buzz virtually undetectable. 
Safe materials. If you are weirded out by the materials vibrators are made of, you'll rest assured. Crave DUET is made from highly durable, pthalate-free body safe silicon and nickel-free, electroplated metal.   
Understated. Mini vibrator comes in burgundy color (pictured below), black and a chocolate brown. 
Waterproof. Not just water resistant, it is totally waterproof! If you like, you can fully submerge this mini vibrator in the bathtub. 
Discreet and classy. Not only is Crave DUET beautiful and cleverly disguised, it comes in a black leather case for easy storage. 
Luxurious. Crave DUET mini vibrator comes in a "Lux" model – 24 carat gold vibrator with data storage. Lux comes in either 8Gb or 16Gb of data storage.  
What an amazing bachelorette party gift for the conservative bachelorette! For more about Crave DUET visit lovecrave.com