Top Picks for The Little Cocktail Black Dress 
The Little Black Cocktail Dress for Bachelorette Party Fashion. Looking for something to wear for your bachelorette party? We have the best party dresses here! Our top picks for hottest cocktail dresses below. Selected By Hot Bachelorette – just for YOU!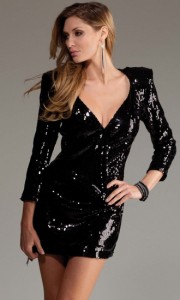 The Bowery – Black Sequin Dress
We found the sexiest little black cocktail dress for you! Get that little black dress now! Styles as sexy as you can get with most budgets in mind. Dress styles range from: off the shoulder tunic dresses, one should dress, black sequin dresses, black lace dresses and some dresses you would only dare to wear in the bedroom. Every little black cocktail dress we picked is made for our sexy hot bachelorettes!