The right flowers make the perfect DIY hair accessories  
Flower hair accessories are a beautiful and exotic way to brighten your look. They can be the perfect accent to spruce up your outfit or make a bold statement. Sure, you could buy cheap looking plastic flowers from a store meant for 13 year olds, or you can stand out with unique designs and fresh flowers for hair accessories.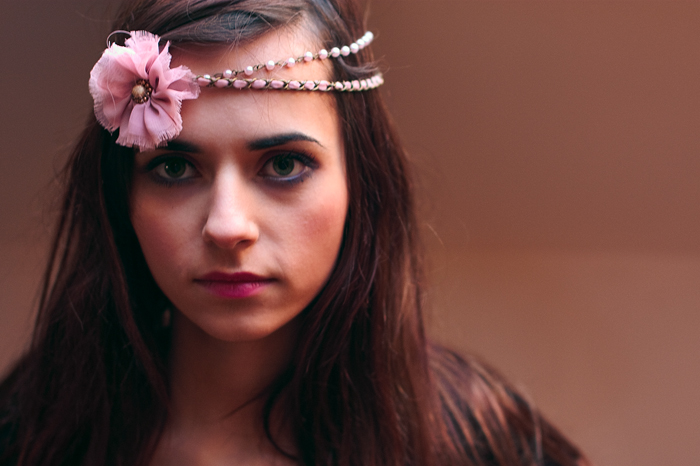 Shop Folica.com
for hair accessories, head bands, and other fun hair accessories!
How To Select Fresh Flowers For Your Hair Accessories 
As an expert on hairstyling who has done hundreds of weddings and bachelorette parties, I've used all types of flowers in my styles, while any flower will look pretty in your hair, some are more practical than others. If having the flower stay in your hair is one of your goals for your bachelorette party look, yes, there are right and wrong flowers for your hair.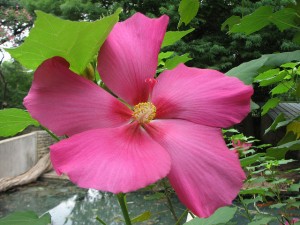 The big decision isn't so much the color or the style of flower, it should not be what your girlfriend's say is cutest. The deciding factor should be durability, no one wants petals dropping into their drink. Hibiscus flowers make a big statement but are easily damaged, Orchids are beautiful but they delicate and brown quickly. And while Calla Lilies are a perfect choice for bouquets, they can be tough to pull off in your hair. The inside reproductive part (giggle, giggle) of the Calla Lillie, known as the teepee is very fragile. If you're not careful, before you know it the orange pollen dusting on your clothes will have you resembling something of a giant Cheeto. You also want to make sure that the flower it isn't too heavy, because it'll droop and trust me, nobody likes a droopy flower.
The Best Fresh Flowers for Your Hair Accessories 
It never hurts to ask a florist which flower will be the most durable for hairstyles, and then purchase a few and try them out prior to your bachelorette party or wedding. Below is a list of durable flowers, some you will recognize the names and some you will recognize when you see the images.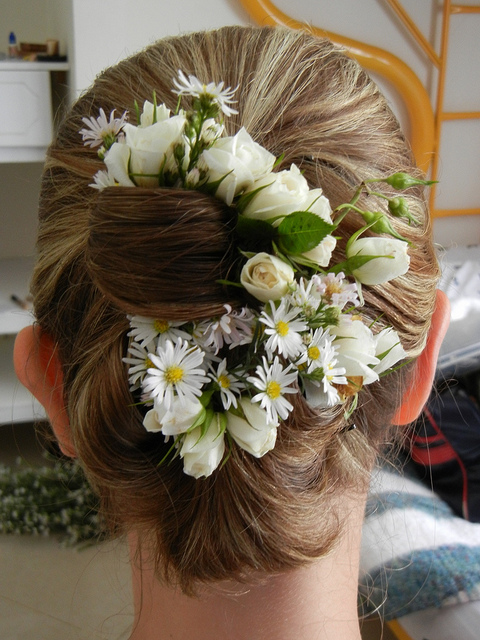 Gerber Daisies – make great hair accessories because they come in many different colors, they last a long time, they have a strong stem that you can attach to a wire and their pedals do not wilt easily.
Baby's Breath – great for DIY hairstyles because they are subtle, easy to maneuver, and sits inside of a hairstyle easily
Stephanotis – you've probably never heard of this flower, but you've certainly seen it! The four pedal flower you see most often as silk flowers, this flower is strong and can maintain its look for hours while pinned in your hair as an accessory
Baby Roses – less durable the abovementioned, baby roses are petite and lovely, they sit well in a bun, on the side or even as a floral headband.
Dendrobium Orchids – because this flower is smaller, it will withstand more than other orchids. A commonly used flower for wedding hair, it comes in various colors – pink, purple white, orange and a leafy light green and makes a great DIY hair accessory 
How to Make Flowers Stay in Your Hair
For a real hair accessory, you want to do more than just tuck the stem of the flower behind your ear, you want the flowers to stay in your hair. The best option I've found is to use a combination of floral tape and wire. Simply take a piece of wire, easily found at a supply store and use green floral tape to tape the wire to the stem. Now you've got a strong base to put a bobby pin around. While you want it secure, be careful not to make the taped stem too think. If it is, you'll have a hard time getting the bobby pin around it. Finally, place the flower wherever you want and use your hair to camouflage the stem. Secure with a couple extra bobby pins and you're set for the night!
Have you tried it all and you still can't get fresh flowers to look right in your hair?
Maybe fresh flowers aren't your thing, don't fret!  I found a gorgeous store on Etsy for beautifully handcrafted, floral hair accessories – Garden of Whimsy.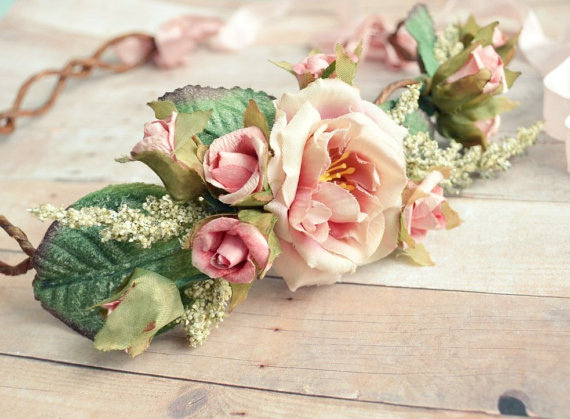 Looking for something quick and easy? Check out the chiffon hair accessories at Dessy.com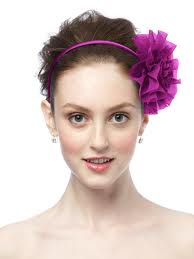 Photo Credits: 
Flapper Girl, Pink Hibiscus Flower, Roses and Daisies in Hair, Floral Headband