Bachelorette Party – Jewelry Making Parties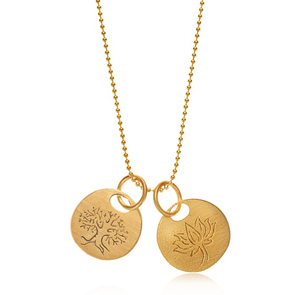 For this Gold Lotus and Oak Tree Charm Necklace visit www.TheBlackBow.com
What bachelorette does not like jewelry?
A jewelry making party is a fun, yet different, way to celebrate a bachelorette party.
There are a couple of ways to go about this:
For the DIY bachelorette, you can do-it-yourself by purchasing all the items or finding jewelry making kits and hosting the party at home. Make sure to get a kit for every attendee with all the materials needed, including a good variety of stones and beads to fit everyone's tastes.
Host a party in a boutique that sells various kinds of beads, stones and gems and have someone on hand to assist you in putting the jewelry together.
If you decide to buy some beads or jewelry making, make sure the items to be made are simple and there is someone in the group that has previous experience making jewelry. If no one has previous experience making jewelry, you're probably better off either hiring a consultant to come to your house or renting out a jewelry boutique for your affair.
The benefits of renting out a boutique after hours are that they will have a larger variety of stones/gems to choose from and you are guaranteed that you and your bachelorette party will get plenty of personalized attention. You can either stick to a theme and make jewelry that will be worn at the wedding or each individual can make pieces that they like that fit their own taste and style. (Some jewelry boutiques even have separate rooms where not only can you get a gaggle of girls together to make jewelry, but they offer special spa services like manicures and pedicures, too). And of course, most importantly, boutiques that are available to rent for private parties also usually have a mini-kitchen and/or allow for food and drinks to be served.
Jewelry making parties are a great idea for bachelorette parties, especially for the more creative bachelorettes. It's a lot of fun and everyone is guaranteed to have a great time AND walk away with a unique piece or two of jewelry to boot.