Have you always wondered what the future holds?
Host an astrology themed party!
With a big life change comine, you can probably bet your bachelorette will want to know what the future holds too! Instead of the typical limo and club bachelorette party, why not plan a night full of mysticism and talk of the stars? 
First, start with entertainment. Get your astrology themed party on the right track with a fortune teller. Hop on Yelp, ask for some recommendations, do some googling and find a tarot card reader, palm reader or an astrologer and book them!
Next up, decorate. Turn the lights down low, find some rich, jewel tone and velvety fabrics to drape over the tables, and throw some scarves over them lamps to really set the mood. Scatter the space with candles and fluffy cushions for guests to sit on the floor. Set up a semi-private area or separate room for one on one readings, because you never know what the cards will say and you may not want everyone to know!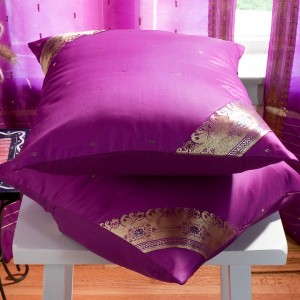 picture courtesy of  Indian Selections
As a cute gift for the future bride, set out some paper and pens and have each guest write out their predictions for her future. Before the night is over or even after, fold each piece of paper into a little origami star and place them in a jar or box. Whenever your bachelorette needs a little insight, she can always reach in and pull out some handwritten love from her guests.
Everyone, including the bride, will leave the party hopeful and anxiously awaiting their predictions to come true. This is sure to be a bachelorette party no one will ever forget!