Sushi Themed Bachelorette Party Ideas!
Sushi is fun, easily shared and great for bachelorette parties!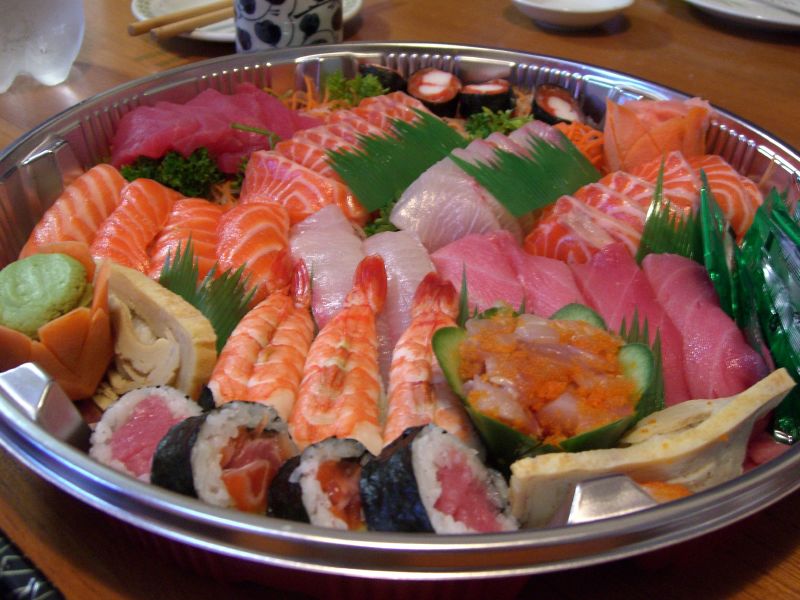 How to host a Sushi themed or Japanese themed bachelorette party.
1) You can stay in and  order sushi for your bachelorettes.
2) You can go out to a sushi restaurant with a fun menu and a funky atmosphere.
3) You can have a sushi making bachelorette party – an interactive bachelorette party experience!  
No matter what you choose, don't forget the Asian Themed Bachelorette Party Favors! 
Sushi Themed Bachelorette Parties at Home
Having a sushi party, or Japanese themed bachelorette party at home can be simple. Order your sushi from a sushi restaurant in close proximity and pick it up or have it delivered. For budget bachelorette parties, start with a salad or some appetizers. Sushi themed bachelorette party appetizer suggestions: gyoza or pot-stickers, shumai or shrimp dumplings, edamame, and cucumber salad.
To save money, make the Japanese style appetizers at home and only order the sushi from the restaurant. Grab a bag of frozen edamame from the grocer along with some coarse kosher salt and make the edamame at home by following the directions on the bag. Many specialty grocery stores (Trader Joe's, Whole Foods or a local Asian grocery store) will have bags of frozen gyoza or shrimp shumai you can also prepare at home. 
Select a variety of individual sushi pieces with rice, called Nigiri, and Sashimi pieces, which is just fish and no rice. Then select sushi rolls. Popular sushi rolls for bachelorettes: California Rolls, Spicy Tuna Roll with spicy mayo or chilly oil, and specialty sushi rolls like Dragon Rolls or Rainbow Roll. Specialty sushi rolls cost more than a simple maki roll, balance your order with a combination. Remember to order vegetarian sushi rolls and cooked sushi for those who are skittish about eating raw fish.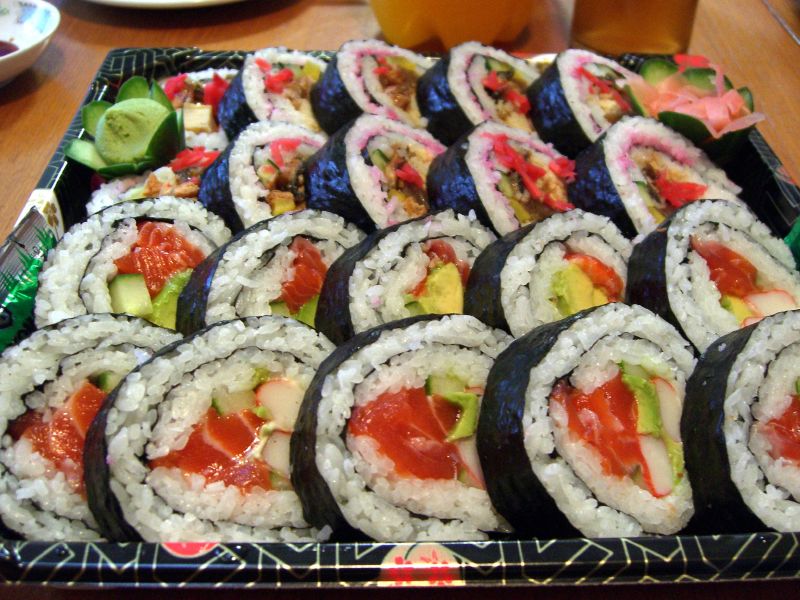 Serving Sushi to Your Bachelorettes Party:
Refrigerate the sushi when it arrives
Serve the sushi within one hour of delivery or the rice will get hard
Try not to order anything that has a lot of sauce
If you do order sushi with sauce, ask for the sauce to be served on the side 
Put the sauce on the sushi rolls just before you serve it to your bachelorettes
Bachelorette Party at a Sushi Restaurant
The best way to manage hosting a sushi dinner in a restaurant is to pre-select a fixed menu. Giving a large group of bachelorettes a vast amount of choices will only lead to disaster. 
People will order too much food
People will not order enough food
People will order really expensive food 
People will not be able to decide what to order and it will take a long time 
Chaos will ensue
Phone the restaurant in advance, get a table or private room big enough for your group. Give them your budget. Ask your bachelorette party goers if there are any food allergies, if so, make the restaurant aware. Ask the restaurant to put together a menu of popular items and share your favorite sushi items with the restaurant. Keep your menu basic and simple. Once the restaurant has developed your menu, share it with the Bride and the Matron of Honor for approval.
Sushi Making Bachelorette Party
Making your own sushi sounds like a crazy idea… but it is not. You can hire a private sushi chef to come to your home (best for areas where there is an abundance of sushi restaurants and/or sushi chefs) OR you can go to a restaurant and take a sushi rolling class. Many sushi restaurants will not host an event like this during heavy traffic hours.
Plan your sushi making bachelorette party on a late Saturday afternoon, start at 3:30p or 4:00pm so that the sushi rolling demonstration is over just in time for dinner. After you eat the sushi rolls you made, you and your friends can off to a bar or a club to dance the night away.